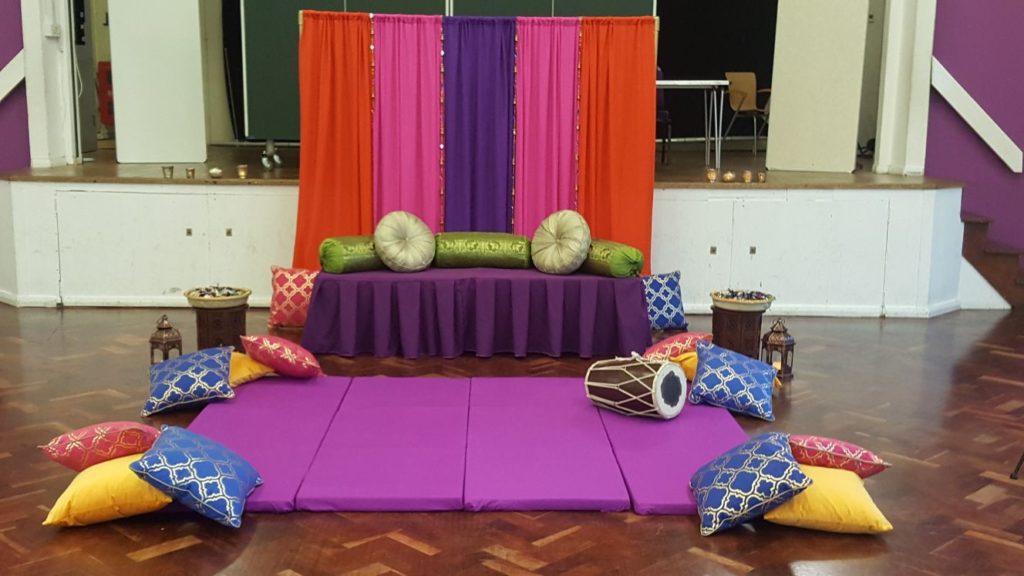 Mehndi stages are a common search when people are researching their wedding parties. In today's world when organising the wedding is a stressful process and a formal event, people see their Mehndi party as a light hearted and fun occasion. The mehndi stage is a focal point for this occasion as it creates an atmosphere like no other event.
Bright colours, garlands, cushions all add to the fun setting where guests enjoy getting their mehndi done, take lots of pictures and party the night away. This is certainly one of the most fun parties leading up to the wedding. LDN Decor provide the decorations required for a mehndi stage. Although we do not actually provide a raised stage, your venue may already have a raised stage where our backdrop and floor mattresses can be placed. A raised stage is not necessarily as most small halls will not have one and the setup is usually done on a level ground.
LDN can even set up a mehndi stage setup in your home. Our unique backdrop is 2 metres tall so will fit in your home. Along with floor mattresses and cushions we can transform your home.
Many people also hire a Marquee for their pre wedding parties. We have decorated many marquees as people want to add some colour to the normal white lining most marquee companies provide. Our decorations look great in a marquee and can also be used for the next day ceremony. Setting up a mehndi stage in a marquee is becoming much more popular and is one of our most common set ups.
So if you are looking for a Mehndi stage in London at extremely competitive prices; we believe we are one of, if not the most affordable, decor companies in London, for your hall, home or marquee.